DoorDash to Introduce Hourly Wage for Delivery Drivers
As part of its platform modifications, DoorDash has announced that it will provide couriers with a guaranteed hourly rate for their "active delivery time." This rate will be offered alongside tips, with couriers retaining the entirety of the tips given by customers.
The earn-by-time option sits alongside the current model where Dashers get paid for every order they complete. Currently, they receive a base fee that depends on the estimated duration, distance and "desirability" of the order, plus tips and possibly promotional fees. Couriers can choose whether they want to be paid by time or per order for each delivery, and they will see the minimum payment they will receive for both options before choosing.
The hourly price varies by market and is prorated. Dashers are only paid for the time between pickup and delivery, not for the time they are on their way to pick up the products. So if the Earn by Time rate is $15 an hour and the delivery takes 20 minutes, the Dasher gets $5 plus any tips. In the meantime, consumers have the option to add or increase the tip after delivery. They have up to 30 days to do it.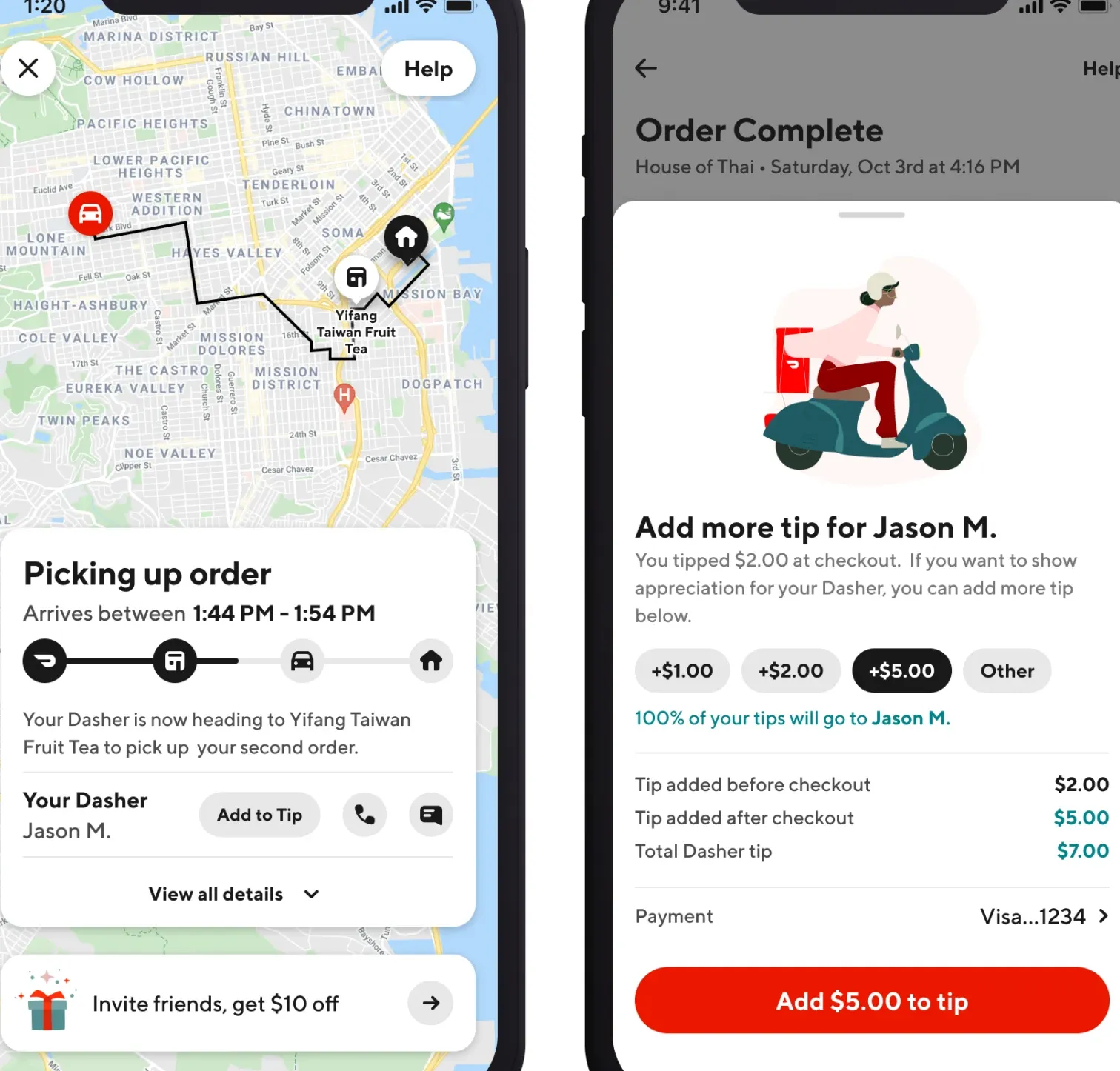 The minimum rate comes into play before New York City begins implementing a minimum wage for food delivery workers. By July 12, delivery apps must start paying their couriers in the city at least $17.96 an hour plus tips. ReturnByte has asked DoorDash for more information on how Earn by Time will adjust to this minimum wage and plans to roll out this option.
Elsewhere, a new initiative for Dashers aims to reduce downtime by allowing them to pick up orders while en route to the area they want to work. DoorDash is also introducing a new security feature for couriers. They can share their real-time location with trusted contacts.
Along with new features for dashers and merchants, DoorDash is revamping things for its customers with its biggest app update yet. DoorDash supports online SNAP and EBT payments, making it easier for those enrolled in these programs to place orders through the app. You can order from more than 4,000 grocery locations across the United States, including participating Aldi, Albertsons, Safeway, Meijer and 7-Eleven stores. DoorDash also offers SNAP recipients two months of free DashPass access.
DoorDash will roll out the update to all users over the next few months. New features include universal search, so you can search for a specific product, retailer or restaurant from almost any app. There will be new tabs at the bottom of the screen called Browse, Grocery, and Retail (the latter of which DoorDash describes as a "modern mall directory"). There will also be several carts. When you're feeling grumpy while filling out a food order, you can save your progress, order something for dinner, and pick up where you left off.